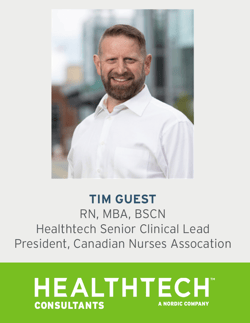 Healthtech is very pleased to announce that Tim Guest, RN, MBA, BScN,
recently joined our team as Senior Clinical Lead. Tim has significant clinical leadership experience in all areas of acute care, including mental health, home care, long-term care, public health, and professional practice and learning.
Tim is also a surveyor with Accreditation Canada, having surveyed single site and large integrated health systems from coast to coast, and holds an Acuity Institute Certified Change Management Professional (CMP) designation.
Educator and Advocate
Advocating for those in the nursing profession and being involved in its future has been a key part of Tim's career. He has been a board member of the College of Registered Nurses of Nova Scotia, College and Association of Registered Nurses of Alberta, as well as the United Nurses of Alberta.
Tim is also an educator, sharing his expertise in in health system planning, design and leadership through his adjunct appointment to the faculty of nursing at Dalhousie University.
President of the Canadian Nurses Association
As the current President of the Canadian Nurses Association, Tim helps advance nursing excellence and represents the voices of more than 435,000 nurses in all 13 jurisdictions across Canada.
With almost 30 years of experience as a Registered Nurse in both Nova Scotia and Alberta and more than 15 years as a health system executive, Tim has served on the CNA Board since 2016, and looks forward to using his term to strengthen the nursing profession within Canada, and improve the Canadian Health system.
Off the Clock
After work, Tim's interest in health extends beyond his role at Healthtech. He enjoys exercise, especially running and curling. He is also a certified nutrition coach, using his skills to bring his love of fitness into the kitchen.
For fun, Tim enjoys watching films of all genres other than horror. He also sings in a Halifax-based men's chorus, and hopes to return to singing with them when it becomes safe again.
To learn more about Healthtech's leaders, visit Our Team page.