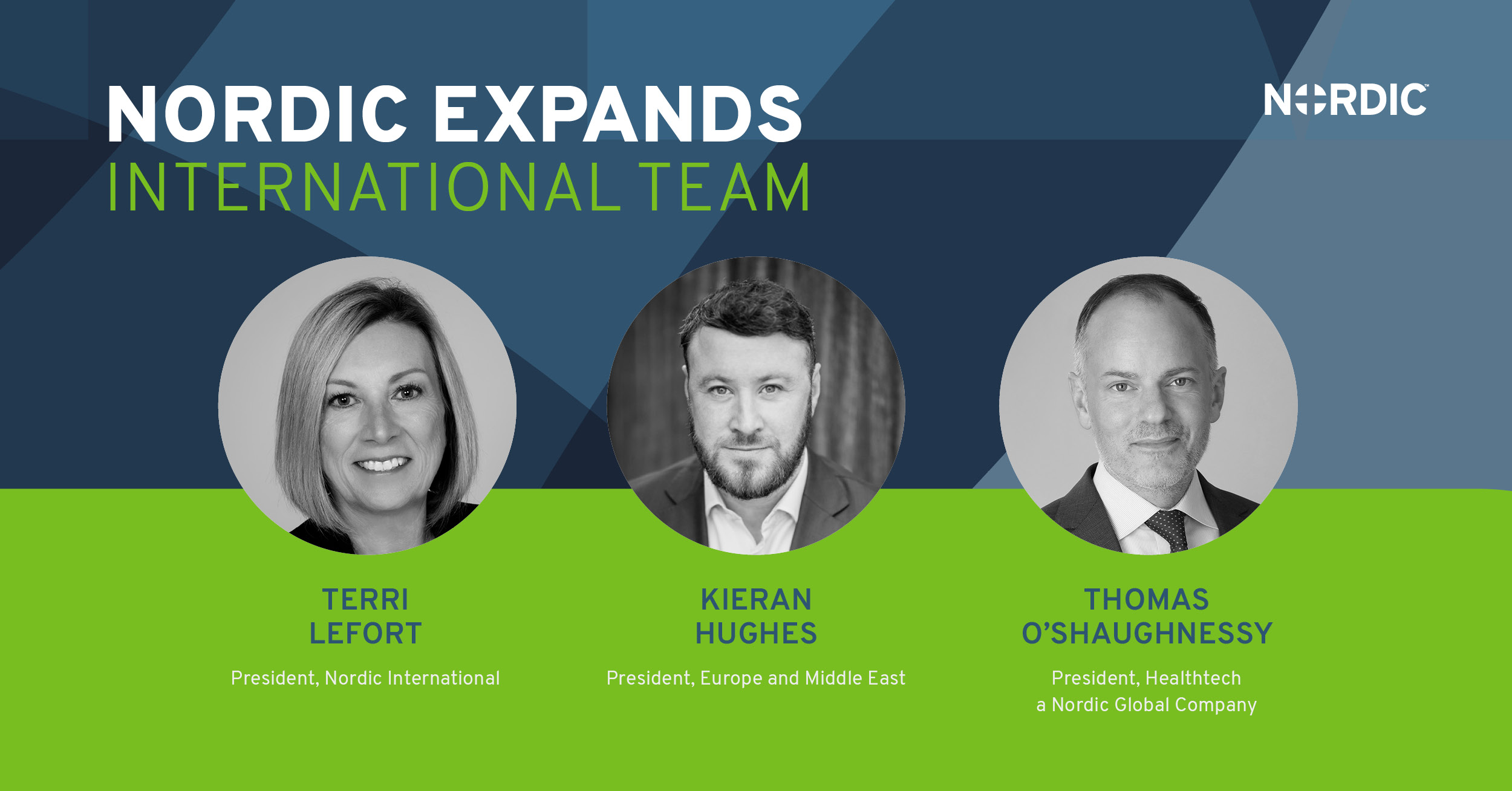 MADISON, Wis., January 9, 2023 – Nordic Consulting, a global health and technology consulting company, today announced the expansion of its international team, with the promotion of Terri LeFort to President of Nordic International and the hiring of Kieran Hughes as President of Nordic's European and Middle Eastern markets and Thomas O'Shaughnessy as President of Healthtech, a Nordic Global Company operating in Canada. These changes come at a time of expansion and growth globally, following the recent acquisition of Hygeian Consulting and announcement of a forthcoming office in Dubai.
"Terri's exceptional work and results at Healthtech illustrate her natural leadership and extensive expertise to manage our international team as we continue to expand in those regions to meet market demands," said Jim Costanzo, CEO at Nordic. "We are incredibly excited to have Kieran and Thomas join us as we continue to grow. With an increasing number of opportunities in Europe, Middle East, and Canada, it has been important to us to find leaders with the right skills and expertise to lead and further our presence and offerings in these regions."
Terri LeFort, who has served as President of Healthtech for nearly four years, will oversee the Canadian, European, and Middle Eastern markets. With more than 30 years of healthcare expertise that includes actual clinical practice and technology systems, LeFort works with healthcare organizations to guide them through successful patient safety and clinical adoption initiatives. In addition to coordinating across all of Nordic's global markets, she will work closely with Hughes and O'Shaughnessy to align Nordic's international go-to-market strategy.
"As a member of the Nordic family for years, I've witnessed first-hand the incredible upwards path the company has been on. With expertise in the major Electronic Health Records (EHR) systems and a strong consultant base, Nordic is even more poised to meet the evolving needs of our global client base," said LeFort. "I'm excited to step into this new role, where I can take the innovative work we've done in Canada at Healthtech and leverage it to grow in new international regions."
Before joining Nordic, Hughes spent several years working for healthcare consulting, innovation, and technology services firms, where he defined and executed international M&A and growth strategies. His consulting clients included governments, national agencies, and healthcare provider organizations throughout Europe and the Middle East. Based in the UK, Hughes is responsible for the growth, strategy, performance, and operations of Nordic's European and Middle Eastern markets.
"The healthcare industry is experiencing a period of transformation, as technology and innovation become even more important in our digital world. Nordic has had an impressive growth trajectory over the past few years, with a plan to continue its expansion internationally and with new and enhanced offerings for clients," said Kieran Hughes. "I'm looking forward to continuing Nordic's momentum and supporting the execution of its growth strategy across Europe and the Middle East."
O'Shaughnessy has more than 21 years of experience across strategy and operations with a focus on health care, including strategic planning, service delivery modernization, and large change transformation initiatives. He has established deep relationships with senior administrative and clinical leaders across the Canadian health sector through strategic engagements with the Ministries of Health, Health Authorities, unions, research institutions as well as the country's rich life sciences ecosystem. In this role, Thomas will help drive Healthtech's evolution and growth, responsible for developing and executing business strategy and supporting the expansion of Nordic's Meditech practice in the United States.
"For more than two decades, I've helped health organizations across Canada embrace technology and new processes to run more efficiently and effectively. The Nordic Global Companies have both the breadth and depth to accelerate these mandates, in Canada and also as we look at supporting Meditech initiatives internationally," said O'Shaughnessy. "I'm looking forward to working with the talented people at Nordic Global Companies, continuing their great work into the next evolution of the business."